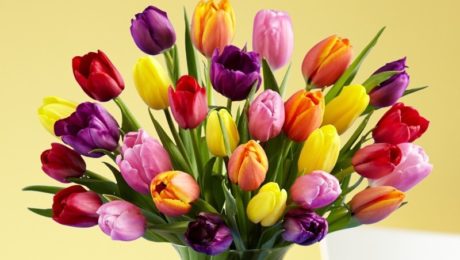 They say that aside from the bride and the bridal gown, the flowers used on the big day are also one of the conversation pieces in the reception or even in the ceremony area. It is a common thing for the bride to be choosy for the flowers on her wedding day. And why not? Flowers add a romantic, elegant vibe. Colorful blooms make the wedding pictures so alive and vivid.
The "language of flowers" is still followed by the couples of today. Some even splurge on the blooms that have importance to them. Mostly used in Philippine weddings by Catering Services providers are the roses. Red, white, orange, yellow, blue. Roses, in any colors, for Pinoys are romantic. Some brides, veering away from the traditional roses, picked the gorgeous tulips as they walk down the aisle.
With also a variety of colors to choose from, tulips are, I think, the second most prominent  flower used in a bridal bouquet. For the bride whose taste in fashion is classic, tulips are the perfect compliment for her. The flowers for all seasons, the lively and happy Gerbera daisies are a versatile alternative to the two flowers mentioned above.
A bouquet of merely Gerberas can command a sweet attention, or when mixed with different greens or other flowers, makes it even more exquisite. For a relax and easy going couple, I think Gerbera daisy is for them. And let's also make a way for the paper flowers. Yes! Paper flowers that meticulously done for that big, special day of yours.
If you and your groom are bookworms, then paper flowers just fit that personality. Imagine the favorite pages of your book, with those unforgettable lines that you really like, cut, folded and made as your bouquet –sounds romantic already. Insert smiley here. Oh, I hope book lovers won't get mad at me. But hey, wedding happens only once in a lifetime, so better make it a memorable one with the help of these flowers. Fresh or made of paper, flowers also tell a story.
They say that wine is good for the health. It could preserve memory. It can decrease cancer risks. Good for the skin. And a whole lot of more surprising benefits to a moderate drinker. But I am writing not about the health gains or to lecture you about the types of wines, because to be honest, I needed to consult my phone's dictionary to spell "connoisseur" in the right way; much more to give an impression that I am a "wine connoisseur" is a disgrace to anyone who holds that term. I am just a simple individual who happens to like and drink wine- white and red- and appreciate every sip the glass has to offer. To me, these wines tell a story…
Sometimes, life is a breeze. Things are going on smoothly. Work. Family. Love life. They are all in a good balance. Weird? Well, sometimes life is weird. And for me, moments like these are like MERLOT. Easy. Just chillin' and everything's on its right flow.
And there are times life is like SAUVIGNON BLANC. Dry. The pressure from work eats you up. The annoying co-worker just doesn't shut up and continues to test your patience. And your car? Ugh! The budget's tight. Tsk, tsk…
And then, by some miracle or faith, life is like CHARDONNAY. Sparkling. Everything is like what's in your dream- the guy who you really want is slowly unbecoming diffident, the stresses of work deadlines doesn't make you cram anymore because, hey, you learned how to prioritize the tasks, and that vacation you and your girlfriends planned a month ago? In a week's time, you will be strutting down in that black bikini, working on that gorgeous tan you've always daydreamed about.
Lastly, life has been always a DESSERT WINE. Sweet. All things about life are meant to be enjoyed in every possible way. A surprised promotion, the patch up of differences in the family, a new vacation on the calendar… Bitterness and failure may hinder us once in a while, but the grasp of positivity will always keep us back on the right track. It is said that the wine should be sweeter than the food it is served with… and I say that whatever comes our way- good or bad, overflowing or flawed- all these life experiences should make life like a bottle of wine- getting better as the years goes by.