EMCEE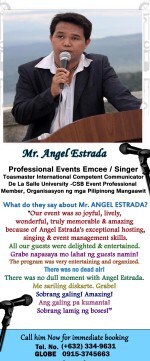 Trained in the field of EVENTS EMCEEING / HOSTING by the founder of the country's leading pop music school, the late Mr. Butch Albarracin of The Center for Pop Music Philippines, Inc. as his mentor.
His singing career started when he was a TENOR for "MPIR AMBASSADORS" of the Manila Philippines Institute of Religion (MPIR) under the late maestro musician/composer ANGEL PANTI, former pianist/musician for ABS-CBN's "NOT SO LATE NIGHT WITH MARTIN NIEVERA"
He was also a composer/arranger to some of the songs of Mr. ARIEL RIVERA, Mr. JOSE MARI CHAN and many others. Ms. Lani Misalucha was a pioneer soprano of this same choral group.
His past clients' would describe him on his hosting performances:
"Our event was so joyful, lively, wonderful, truly memorable & amazing!" "No boring or dull moments with him!" "All our guests were delighted & entertained!""Grabe napasaya mo lahat ng guests namin!""The program was very entertaining and organized. There was no dead air!" Me sariling diskarte. Grabe! The best emcee that I've ever met! Sobrang galing! Amazing! Very professional! Ang galing pa kumanta! Sobrang lamig ng boses!" "He can turn even the dullest of an event into a riotous fun with class & finesse!" "It was the most organized wedding / event that we had attended!"
Obtained his degree of B.S. in Commerce, Major in Human Resource Management & Development (HRMD) at Polytechnic University of the Philippines (PUP) and later on took up Post-Graduate Diploma Programs in Professional Events Management, Human Capital Management, and Real Estate Laws & Management at De La Salle University – College of St. Benilde, Manila
He also had the chance to attend the Master Class in Events Management conducted by the world's foremost authority in events management, Dr. Joe Goldblatt, CSEP of Queen Margaret University at Edinburgh, Scotland
With exceptional talent in speaking, reading and writing English and Tagalog languages.
He was a short story writer – contributor for Graphic Arts Service, Inc., the makers of famous "komiks" magazine "Lovelife", Love Affair", etc. during the 1990's
Back then in 1990, he took up English as a Second Language at the Manila Philippines Institute of Religion (MPIR) at University Belt, Manila
In 2008, he was rated as ABOVE AVERAGE for "Conversational English & Business Writing" by the Berlitz Language Center at Paseo De Roxas in Makati
Last July 2011, he was given a "COMPETENT COMMUNICATOR" (CC) award by the Toastmasters International from its head office in Mission Viejo, CA 92690-9052 USA
His professional career involves working in two prestigious law firms in the country, the Nogales Law Office and the Puruganan Chato Tan & Eleazar Law Offices for ten (10) straight years as legal assistant, and as HR-Admin-Labor-Legal consultant practitioner to various corporations for over ten (10) years now.
He is a former Branch President, Sunday School Teacher and Youth Leader at Naic Phils. District for The Church of Jesus Christ of Latter-Day Saints, and member of the Board of Directors, Belvedere Townhomes Homeowners Association, Inc., Bgy. Paradahan 1, Tanza, Province of Cavite.
He completed his week-long "Choral Conductors Hands-On Workshop" at the Cultural Center of the Philippines under the tutelage of the Philippine Madrigal Singers on October 25-29, 2008
He also attended WEDDING & DEBUT COORDINATION WORKSHOP at Business Coach, San Juan, Metro Manila in 2009, and the TEAM COORDINATORS' WORKSHOP by Weddings Beautiful Philippines, the No.1 Wedding School in America, the Weddings Beautiful Worldwide Member, Philippine Choral Directors Association (PCDA)
Voice Lessons Teacher, Manila Philippines Institute of Religion, School Year 2003 – 2004
Chief Executive Officer / Vocal Trainer for "VOICES OF ANGELS DEVELOPMENT CENTER" .
Chief Executive Officer / Resident Master of Ceremonies / Entertainer / Trainer for "AEB EVENTS MANAGEMENT"
For bookings / appointments, please call our secretariat:
Tel. No. (+632) 334-9631 / 354-9681 / GLOBE +63915-3745663 (Direct Mobile)