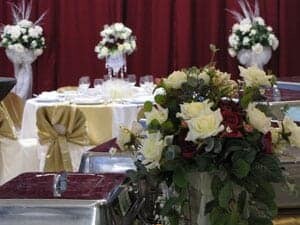 What is Catering? For those newbie out there in food industry One might wonder what the heck is Catering. Catering is a business of delivering or providing Food Service at remote locations like Public function Halls Village Club Houses, Hotel Function Halls and Residential Areas with Garden that can accommodate a number of guest.
Catering Service is the most comfortable way to celebrate any special Occasion. Catering Service can provide everything you want for your event from event planning to food choices and event presentation.We  call the waiters "caterers". They are responsible for serving the food such as ladling onto plates for the guests or simply assisting them in a buffet set up. They are also called "wait staff" because they serve all the times. Though sometimes mistaken, some people think caterers  prepare food,they are more responsible for setting up the dining site whether in a hall, houses or in gardens. They prepare the dining tables with its best cloth, skirting and other designs.
Catering companies are specialist event planners. They don't only plan for food but they manage an event holistically. Colors and theme must be given to them before anything else so that they can plan the best presentation in accordance to its theme and motif.
In any catering event, the food itself does not only appeal and suffice the costumers but also the ambiance and the decorations that make the event significant and memorable.
Lastly, every catering aims to satisfy  attendees senses with the food as the hallmark, and the better feeling for the decorations and lighting.